Like most children Erik showed a great interest in drawing and painting at a young age. His curiosity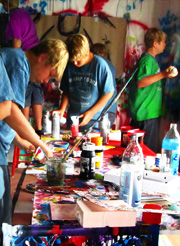 for art and design, however, took him on in the drawing and the first works are dated back to 2006
when Erik was 9 years old.

Through his ​​curiosity and thirst for knowledge of the arts Erik tries out ever new media and likes to work in everything from charcoal, street art to oil. At a couple of occasions Erik has had the opportunity to
try to work in glass and will probably further ahead develop that side of his art. The majority of his art is watercolour and acrylic.
Erik was born and raised in Gothenburg, in recent years, however, his family lived in England and the United States where Erik had the privilege to attend schools with fabulous "Art Departments", The Tytherington High School under the direction of Miss Bailey and Mr. Graham and Kennett High School and Ms. Caputo-Nelms. Environments of the best art studio class and with access to all possible materials and media for students best development. This has of course been a great privilege for Erik's development and has also spurred him to develop further. Erik has during 2012 been taking lessons with Kristen Margiotta at CCArts, Yorklyn DE.


Erik depict faces and eyes in his works which is probably linked to his chronic eye disease that he suffered at the age of 7, Chronic Uveitis.

Eric has had the privilege to work with and draw inspiration from artists such as his uncle Jimmy Lennings, cousin and tattoo artist Jonas "Neville" Ozolins, Isabel Mitchell, Kristen Margiotta, Peter Engberg etc.

Some of Erik's role models in the art world is Andy Warhol, Roy Lichtenstein, Jackson Pollock, Picasso, Salvador Dali, Juan Miro, Bengt Lindström, Alberto Giacometti,Auguste Rodin and many more.